Talent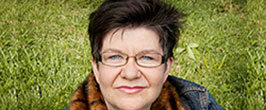 Melba Sibrel
Melba is a versatile voice actress whose character, animation, audio book and narrator credits include: Noggin's "The Tweenies" (North American cast), Audible.com and s2 Videogames.
A velvety, textured voice, Melba can sound friendly, bubbly and approachable yet still authoritative -- for corporate, political, commercial and IVR, voicemail and messages-on-hold. She's delivered high-quality voiceover for:
Bridgestone/Firestone, Vanderbilt Hospital, Teddy Ruxpin, and American Water among many.
Contact ProVoice Greetings to use Melba in you next advertisement or other voice talent needs. Melba Sibrel.