Talent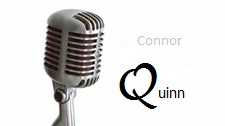 Connor Quinn
Connor's unmistakable multiple award-winning voices have been heard introducing some of the most loved movies of all time — as well as radio and TV commercials and video games. Connor has so many voices*, he's like a treasure chest of characters. Each one, is a voice that you will remember.
His career began at the age of 6, doing on-camera work in Hollywood for hundreds of TV commercials as a child actor, as well as appearances on such television shows as Little House on the Prairie.
He transitioned behind the microphone in his teens, apprenticing on many projects for Disney, NBC and getting to train with some of the legends of voice-overs.
Today, Connor has voiced tens of thousands of commercials, clients have included Tim McGraw, voice characterizations for Star Trek, Visa, Subway, Lipton Tea, Los Alamos National Laboratory, KFC and Sandals Resorts among many others.
Whether you're wanting the slice-of-life no-announcer voice, an announcer voice, a grandfatherly read, early 20's read — movie trailer, radio commercial, or something in between, Connor is your guy.
Contact ProVoice Greetings to use Connor Quinn in you next advertisement or other voice talent needs. Connor Quinn.