Talent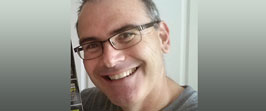 R. Michael
Ralph voices all sorts of sports projects with exciting sprints to the finish! Clients include the NHL's Buffalo Sabres (eight seasons handling MSG-TV imaging) , the NFL's Buffalo Bills for four seasons and Shaw TV in Canada (nine seasons voicing promos for WHL hockey games).
Ralph has also been Santa Claus at one of North America's largest malls the last three Christmas seasons. His creative hockey mind produced the AC/DC inspired CanuckStruck.com in 2011 and he has been blogging regularly at http://HasTheVoice.blogspot.com since 2006.
For the past ten years, Ralph has also been the "go to" voice for Legal Media, Inc., based in Houston, Texas.They have been on the winning side of over $20 billion dollars in verdicts, summary judgments and successful settlements for their clients and his voice has been used in many technology tutorials that go to court. Besides on-hold messaging, longer narration projects like corporate videos, eLearning modules and online tutorials make up R Michael's niche market in voiceovers. In the spring of 2010, he started work as the voice for training materials for a well known national Automotive Parts organization.
Contact ProVoice Greetings to use R. Michael in you next advertisement or other voice talent needs. R. Michael.