Talent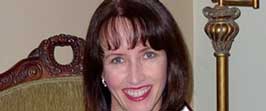 Valerie Chandra
Valerie Chandra is currently a French teacher in an immersion Montessori program located in Middleburg, VA. She has been working with children in that setting for the past 12 years as well as tutoring this language for many years.
Born and raised in the center of France, she is a native speaker with a clear voice. After meeting her future husband, she moved to the United States in 1993 and became a citizen in 1996. She is fluent in English and has retained just enough of her beautiful French accent to reveal her origin.
That accent caught the attention of the company ProVoice for whom she has been a professional voice actor for the past 2 years. There are samples of her work with many clients available on their website. Whether recorded in French or in English, she loves being the voice which represents them all over the continent and abroad.
Contact ProVoice Greetings to use Valerie in you next advertisement or other voice talent needs. Valerie Chandra.